I finished sizing up the material. Just got too damn hot to finish it yesterday. This morning wasn't much better. Was all ready to finish them IN the bay, now if someone wouldve told me they come out soooooo easy the day before~
But they are done. Not perfect but who cares, my butt will be in it for awhile. And no more ripped up vinyl or straw scratching me.
So here they are, excuse my foot but my arm wasn't long enough, camera needs 4+' to focus.
The pass side I assume is a replacement since it had not backing. And it didn't come out as good as the driver's side.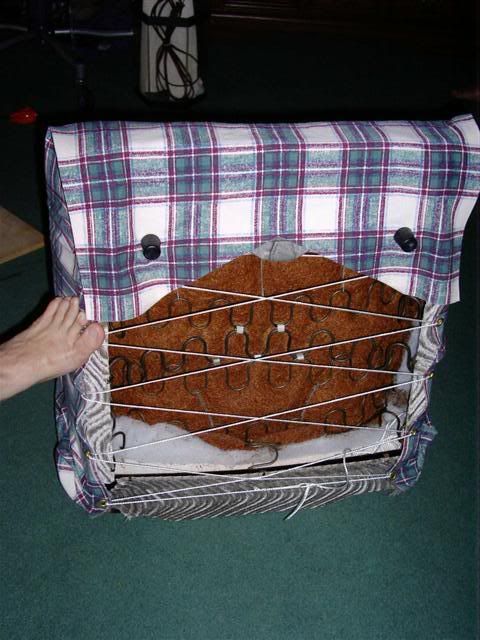 you can see how I tied them on.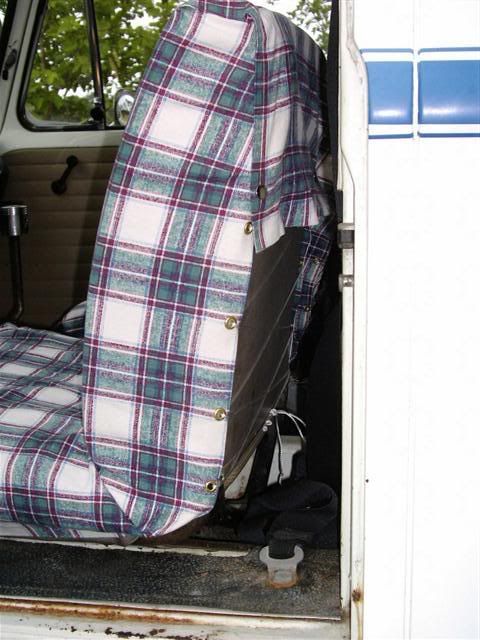 no sewing~ all hammered in grommets and snaps. I have a sewing machine, but I break more needles than it's worth~ wonder stitch iron in, wonderful stuff!
so here's the pr~
he says we can paint the outside to match,,, uuuhhhh, plaid? no~ men~
will find a solid color for the back seat and bed later. ut now I'm comfy.
Super update~
He took the cooler off and oil was only on one side. Tried to force air thru. no go. So after drilling 4 holes in different areas, and take out oil pump, a slug of dirt dober finally fly out. Damnbugs~ they build and can ruin an engine in an hour! That's why, engines should get bagged when you are done!
So tomorrow he will bring home pipe plugs to plug the extra holes.( hmm, next owner is gonna wonder on that one~ ) After he will fire it up again and see what the pressure is and then maybe reinstall it.
we'll see~