Well, I didn't realize that there were so many guys doing this. Seemed like it was just Ray Dean and I. Anyway, I've been playing with this for the last few days and by Monday or Tuesday I should have one completed minus the glass. Here are the pics up to date. I'll add the rest as I complete it.
1. This is just one last fit before I had the window frame tacked in so I could reference how everything lined up on the bottom. Nothing really happening here.
2. This was with tape lines added for my cuts. I wanted to optimize how much I had left over so I could have a better lower piece for mock-up afterwards.
3. This is with my window frame tacked in and the cuts made on the vent window frame. I should mention here that I was planning on using the lower mount over the front as I like a bit wider vent window rather than a narrower one. You will see in a later pic that it really wasn't that much of a difference on mine. Maybe an inch and a half at best. I however realized something here after the fact, I should have waited to cut the aluminum upright post as I could have just cut it to length. Oh well, I'm still a little green at some of this!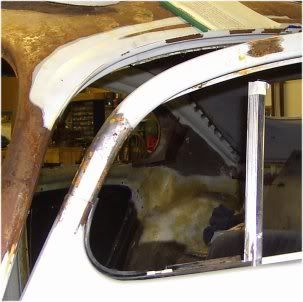 4. As you can see here, the frame is all tacked up and the difference in where the post ends up is very minor. But I still want to use the lower mount so as to maintain the original glass width for the door. Plus the proportions are pretty nice overall.
5. This basically shows the frame outside of the door. I plan on keeping the upper mount and just drill a hole large enough to allow the screw that fastens into door window frame to pass through. Then I'll just add a new bracket to rivot to the upright. Sounds like a hassle but it's really not.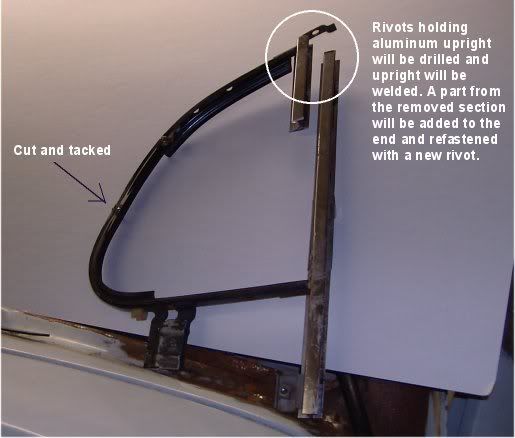 6. And finally for the moment this shows the vent window glass frame cut and just sitting in place. Sorry for the glare.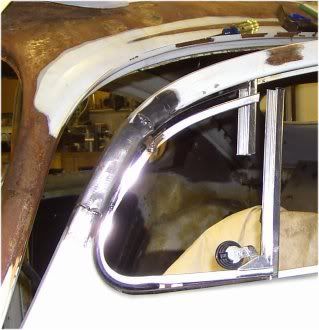 If there is anything in particular that anyone would like to know, please let me know so I can add it. It's hard to keep everything in mind when doing these step by step processes.
A.J.